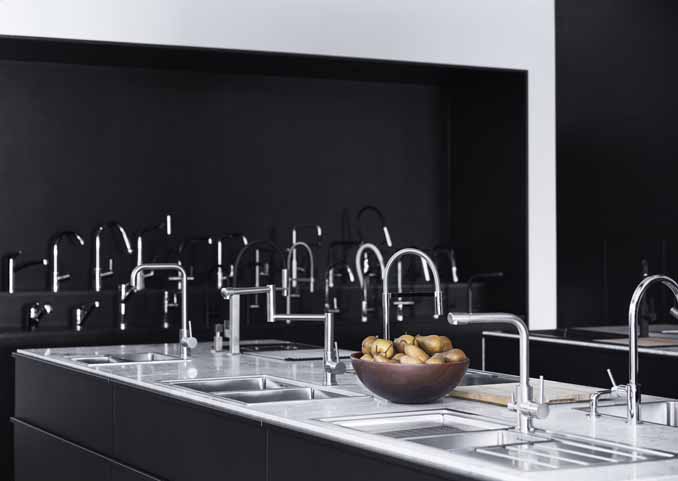 Melbourne-based Centre Plumbing has achieved the ultimate pairing: a place where designer looks meet practical experience. The new Navi kitchen and bathroom showroom offers the beauty of European design coupled with a team backed by more than 70 years of plumbing know-how. Tucked away in a surprising part of Melbourne's Glen Iris, the bold new Navi showroom is the perfect space to display the range of options your client could have in their dream kitchen or bathroom.
Managing director, Cliff Bodsworth, brought together a dream team to deliver what is tipped to become the standout bathroom showroom in Australia. David Flack was chosen as the interior architect and his trademark charisma, flair and inviting design is seen in spades in the new showroom. Dynamic design duo Pop & Pac managed the brand work and delivered a visual package that perfectly balances the down-to-earth character of the business with the elegance and excitement of the new space.
"The showroom is certainly beautiful, but we also want it to be a place where everyone can feel welcome and comfortable — from architects and designers to home renovators," says Cliff. "This is a third-generation family business at heart, so we wanted to bring all this experience and combine it with a carefully curated selection of tapware, fixtures and accessories."
Standouts of the showroom include collections by Italian brands such as Studio Bagno, Bocci, Zucchetti, Paco Jaansōn and a unique marble tapware range by Marmo. A Shower Therapy gallery showcases the latest shower tech designed to enhance relaxation.
Why the name Navi (pronounced Nay-vee)? With a family heritage in plumbing that spans 70 years, the Centre team concluded a name that reflected its trade roots was appropriate and navy is the traditional colour of a plumber's overalls.
For more information
Address 14 Weir Street, Glen Iris Vic
Phone (03) 8823 7444
Opening hours:
Monday-Friday 8:30am-5:00pm
Saturday 9:00am-1:00pm
Sunday by appointment only