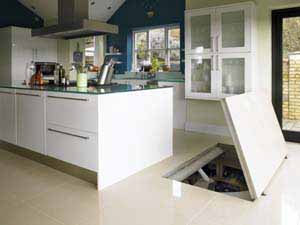 The size and style of the cellar are key factors for clients when specifying their Spiral Cellar, but another key element to the system is the trapdoor; effectively the gateway to this unique storage system that also has a huge impact on the design of the room.
Spiral Cellars offers eight different types of trapdoors, with a different door for almost any interior scheme. The cellar comes with the standard trapdoor featuring four wooden panels, which works well in understated, rustic schemes. Upgrade options include the recessed doors, which accommodate the wooden or tiled flooring in the rest of the room and make the cellar blend into the scheme. These are designed with the loads of the different materials in mind, incorporating gas struts and electric motors where necessary. There are glass options, so that the cellar becomes the focal point of the room, particularly standing out when coupled with LED lighting. The glass door is available as a rectangular, half-round or full-round shape to suit the style of the scheme.
Whatever type of door is chosen, it can be positioned at any point on the centre line of the cellar to suit the room layout or the easiest access point.
For more information:
Spiral Cellars
Tel: 0412 521 226
Website: www.spiralcellars.com.au