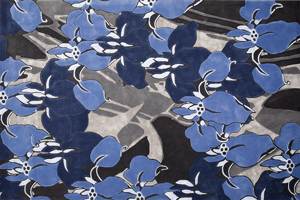 Designer Rugs has announced the much anticipated return of Akira Isogawa designs to their showroom. Akira's 2005 limited edition collaboration with Designer Rugs was a noted celebration of cultural harmony through colour and design — his Japanese heritage was markedly influential as was his devotion to Australia's love for vibrancy.
His latest release Hirameki will not disappoint his fans. Meaning "inspiration", Hirameki references traditional Japanese and contemporary Australian cultures, creating a unique synergy of Oriental inspired patterns with Australia's current preoccupation with colour.
The notable difference between his 2005 and current collections is Akira's travel-learned dedication to sustainable design. The introduction of Bamboo to his Ayame and Shibori designs adds an environmental edge to his ornate and lavish creations.
It was his international travels that provoked Akira's obsession with different materials and methods of design rendering concepts, which culminated in the eventual creation the Hirameki range.
New Zealand wool still makes up the majority of the material in these meticulously handmade rugs, ensuring they remain a comfort and luxury to those who purchase them. However, the addition of bamboo and traditional Japanese and Indonesian printing techniques differentiates Akira's latest collection from the last and maintains his position at the forefront of innovative rug design.
Kimono traditions and flower patterns form the perfect symbiosis in his Ayame and Kiku range, as does the combination of Indonesian printing techniques and wave motifs in the Shibori and Batik editions. The Hirameki range can either be custom made to fit your own interior space, or crafted into standard rectangular 200 x 300cm and 250cm diameter circular editions.
When Designer Rugs and Akira Isogawa collaborate, what usually results is faultless product — meticulously produced and professionally traded. The Hirameki is everything you would hope for and more. With a sustainable edge and unique cultural references, a Hirameki rug would be a great addition to any residential or commercial space.
Available exclusively from Designer Rugs showrooms, the collection is priced
from $4,950.
For more information:
Designer Rugs
Website: www.designerrugs.com.au
Tel: 1300 802 561