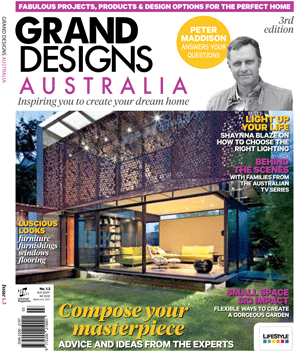 Are you following the Grand Designs Australia popularity trail?
Grand Designs Australia magazine is the go-to source for the unconventional, grand and unique home designs of today. At Grand Designs we explore the bizarre ideas of cars in living rooms, covering the whole exterior of a house in timber, and the potential for a warehouse to be a quirky but ideal living space.
Take a minute to fill out our really quick and easy six-question Grand Designs Australia Home Survey and get a FREE copy of Design & Decoration magazine sent to your home, if you are one of the first 500 participants.

It is so quick and simple, follow the link below and you will have your new mag in the mail in no time!