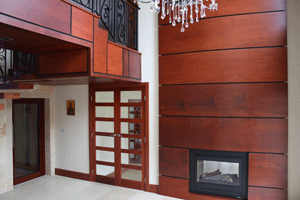 Lift Shop, Australia's multi-award winning leader in luxury residential lifts, has launched the exclusive ElfoLift 2 to the Australian market.
Incorporating the latest European directives and a host of new industry advancements, one of Italy's best-selling residential lifts now features automatic sliding doors with two- and three-panel options.
Like its predecessor, the original ElfoLift, ElfoLift 2 comes standard with an exclusive premium cabin and remains a favourite with its fastest-in-class rating (at 0.30m/s), five-person capacity, personalised Italian styles and finishes, customisation to suit any space and minimal architectural footprint.
"As in Italy, ElfoLift has always been a best-seller in Australia, and now the new and improved ElfoLift 2 is already looking like another excellent choice for bringing luxury, convenience and style into Australian homes and lifestyles," says Lift Shop's Bernard Edwards.
Lift Shop is putting the finishing touches on its brand new ElfoLift 2 demonstrator lift in the Sydney showroom, which is set to be a popular attraction for showroom visitors, many of whom are already impressed by its array of new features and the wide selection of options and finishes available. The demonstration will provide the opportunity to test-drive the ElfoLift 2 and truly experience its exciting new-and-improved features.
ElfoLift 2 is available exclusively from Lift Shop, Australia's award-winning leader in quality, luxury designer home elevators.
For more information:
Lift Shop
Website: www.liftshop.com.au