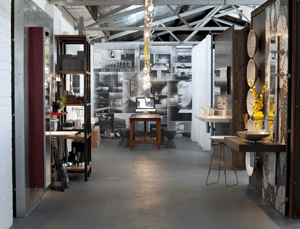 Leading boutique bathroom manufacturer, Minosa, has unveiled its new showroom and design studio in the heart of Sydney's fashionable design hub, Alexandria.
The new showroom space is home to Minosa's collection of bathroom products ranging from washbasins and bathroom furniture through to accessories and tapware.
The creative directors of the stunning new showroom are renowned Sydney design duo Darren Genner and Simona Castagna who are also responsible for designing Minosa's locally-made, artisan washbasins and finely crafted bathroom furniture.
"We wanted to give our retail customers and the A&D community an all-encompassing product selection that allowed us to provide a complete sensory experience leaving them feeling relaxed, rejuvenated and also inspired," Genner explains.
The showroom has been created to meet market demand for high-quality, locally-made, bespoke contemporary products befitting the ultimate luxury bathroom experience.
The Minosa Showroom is further strengthened and distinguished from a traditional retail showroom by having a design studio, Minosa Studio — the home to Genner and Castagna's bathroom, kitchen and interior design service — as its backdrop. The location of the studio within the showroom means that the designers are on hand to "assist people to create a memorable bathroom, whether that's helping them select a simple accessory, a specific product decision or a holistic design and installation schedule".
For more information:
Minosa Showroom
Website: www.minosa.com.au
Tel: (02)8090 9039