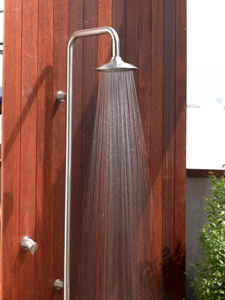 With 15 years in the business behind them, Sussex Taps has set a new standard in Australian showers with their Monsoon Hot and Cold Shower.
The exciting new range can be installed indoors or outdoors, catering to all your showering needs. The outdoor option is the perfect solution for the Australian, beach-loving consumer or outdoor adventure.
Constructed from sleek stainless steel for a modern appearance and easy maintenance, Monsoon Hot and Cold showers combine comfort, performance and classic style, the perfect fit for any home bathroom or outdoor area.