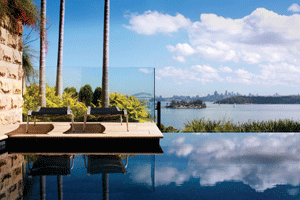 STAIN-PROOF Original is Dry-Treat's invisible and breathable sealer for all natural stone, pavers and tiles. It penetrates deeper and provides permanent protection, reducing greatly the damages caused by weathering and wearing. A surface treated with Stain-Proof is guarded from staining but retains its colour and finish. Stain-proof can be applied in many places such as swimming pool surrounds, countertops, facades and entertaining areas.
Stain-Proof's world leading technology allows it to impregnate the surface deeper while still maintaining its breathability. This not only protects natural stone, paving and tiles against stains to keep them looking good, but also maintains the slip resistance of the surface, retards moss and mildew growth and makes the surface easier to clean.
Stain-Proof's special water- and oil- repelling molecules actually bond permanently to the surface to create very long lasting protection. A 15-year performance warranty is available when Stain-Proof is applied by an accredited applicator. However, the simple application instructions are very easy to follow for those who prefer to DIY.
Stain-Proof's use has spread in over 30 countries. It protects many well-known public icons such as Melbourne's Cricket Ground, Sydney's Queen Victoria Building, London's Nirvana Spa and many other shopping malls and residence all over the world.
For more information call Dry-Treat on 02 9954 3211 or email
info@drytreat.com
. For more of Dry-Treat's exiting products visit www.drytreat.com.