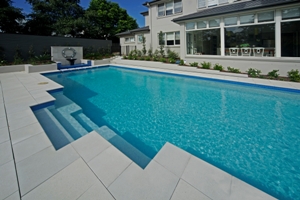 Gemtex has recently introduced the Crystal series! Four exciting new colours blend quartz with a high concentration of shimmering glass beads and real silver highlights; offering a distinctive, iridescent and glittering pool finish. Breathtakingly beautiful and highly refractive, the Crystal Series is the latest addition to the already vast range of Gemtex pool interiors.
Gemtex strives for perfection so the company works with clients to determine what is most important to them in terms of colour, size and texture. The specialist team of applicators hand trowel the render onto the prepared pool shell, which is then pressure-washed to reveal the exquisite quartz and glass beads below – leaving you with a stunning pool finish for many years to come.
The company's experience ensures the finished product is customised to your liking – guaranteeing a product that is aesthetically stunning, superior quality and safe. Gemtex interiors are smooth to the touch, making them ideal for a family pool as they do not abrade the skin after prolonged periods – a common issue with many other quartz renders.
Gemtex offers 24 standard colours and can also create custom colours to create a unique look for you. The stunning pool interiors are high performance, cement-based swimming pool surfaces that are specially formulated for application on reinforced concrete swimming pool or spa shells.
For more information please call 1300 436 839