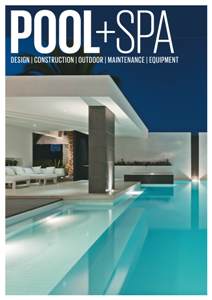 Universal Magazines has announced the relaunch of Australia's longest-running pool and spa industry magazine, Pool and Spa Review. The new-look Pool + Spa will service those working in the residential and commercial pool, spa and related industries through its multi-channel magazine, website, e-newsletter and digital editions.
The first issue will reach the market in mid June and there are limited advertising spots available. Sporting a sleek redesign, it features a bold and insightful editorial direction that will provide its targeted audience of industry professionals with vital information needed to ensure tangible bottom-line results to their business. Each issue will deliver the latest news from the industry, product reviews, business tips and know-how, Q&As with industry experts, case studies, troubleshooting and inspirational pool projects from Australia and around the world to inspire and interest readers.
Among many of the highlights of Pool + Spa is a regular profile on leading Australian companies and their success secrets, case studies of unique pools detailing how the brief was met and the obstacles overcome, and more product profiles to highlight new offerings to the sector. Each issue will also feature a regular section dedicated to "poolscaping", the latest growth trend in the local pool and spa industry.
For advertising enquiries, please contact Sarah Laughlin
For editorial enquiries, please contact Danielle Townsend